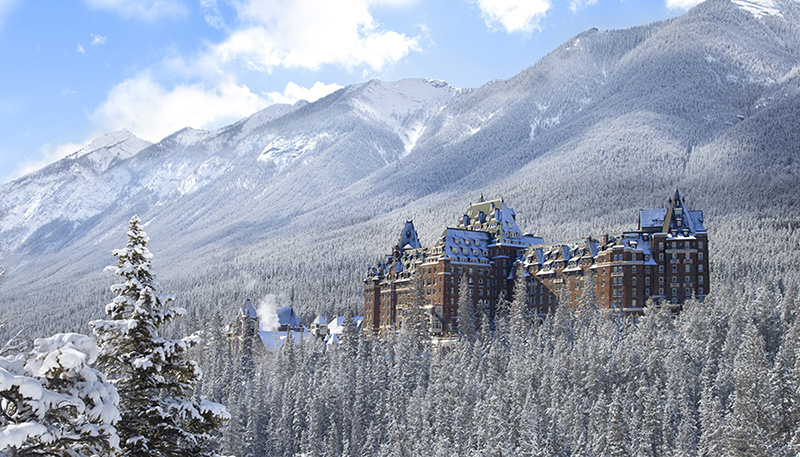 Though it opened in 1911, the Chateau Lake Louise hotel has likely never been as popular as it is now. Room prices are exorbitant, and unless staying there you aren't even allowed to visit most areas of the hotel. The fact that many of the hotels built by the Canadian Pacific Railway (CPR) and Canadian National Railway (CNR) more than a century ago (and some that are soon to be centenarians) are still considered to the utmost in luxury and style is a testament to the vision and talents of the architects that designed them.

These grand buildings showcase both Canadian architectural prominence and the grit of the builders in those days.
Designed as though nothing was impossible, and built in dramatic and hard to reach locations, these hotels were beyond the wildest dreams of most Canadians when they were constructed, and still beggar belief when we think of how difficult they must have been to complete.

Many of the properties were bought by the Fairmont brand, but Canadians still refer to them by their original names with reverence – they're as much a part of our cultural history as they are a part of the Canadian landscape. Many of the railways have been pulled up, but those grand hotels remain, and we can but marvel at the talent and hard work behind them.

There were several different architects involved in the building of the Canadian railway hotels, and although none of the hotels were identical, granite walls and copper roofs were often included as design elements. Some hotels were built for business clientele in major cities, while others were built as a means to draw travellers to places that the railways serviced – a strategy that proved highly successful in turning the Rockies into a major tourism destination.

At the time that these properties were built, they set records and standards on how hotels should be built. When the Royal York Hotel opened in Toronto in 1929 it was the tallest building in the Commonwealth, and was designed to operate as a city within a city. Le Chateau Montebello in Quebec opened in 1930 and for many years was the world's largest log building.

We're not sure how many drawings must have been used, or how they went about contract administration, but it is on record that many of these projects were controversial and must have required a trail of paperwork. Can you imagine how many drawings had to be modified, how many contracts revised, and how many orders were made with every single change? All done without fax or email, in remote locations where the railways were often the only means of getting to them? Complex projects are surely so much easier to stay on top of these days, especially when using contract administration software to smooth everything out and keep on top of things.

Wandering around any of these classic properties you can't help but marvel at the ingenuity, and wonder how on Earth the architects managed such massive projects. We've come a long way in the profession, and have the tools to make the job easier and more efficient, but those designs stand out as impressive despite the passage of time.
Fortunately, we have solutions these days to make the business side of designing buildings a lot simpler to manage. Want to give RForm a try? Sign up now for a 3 month free trial and if you need any help getting started call us at 1-866-789-6050 or email us at info@rform.