Project files and document management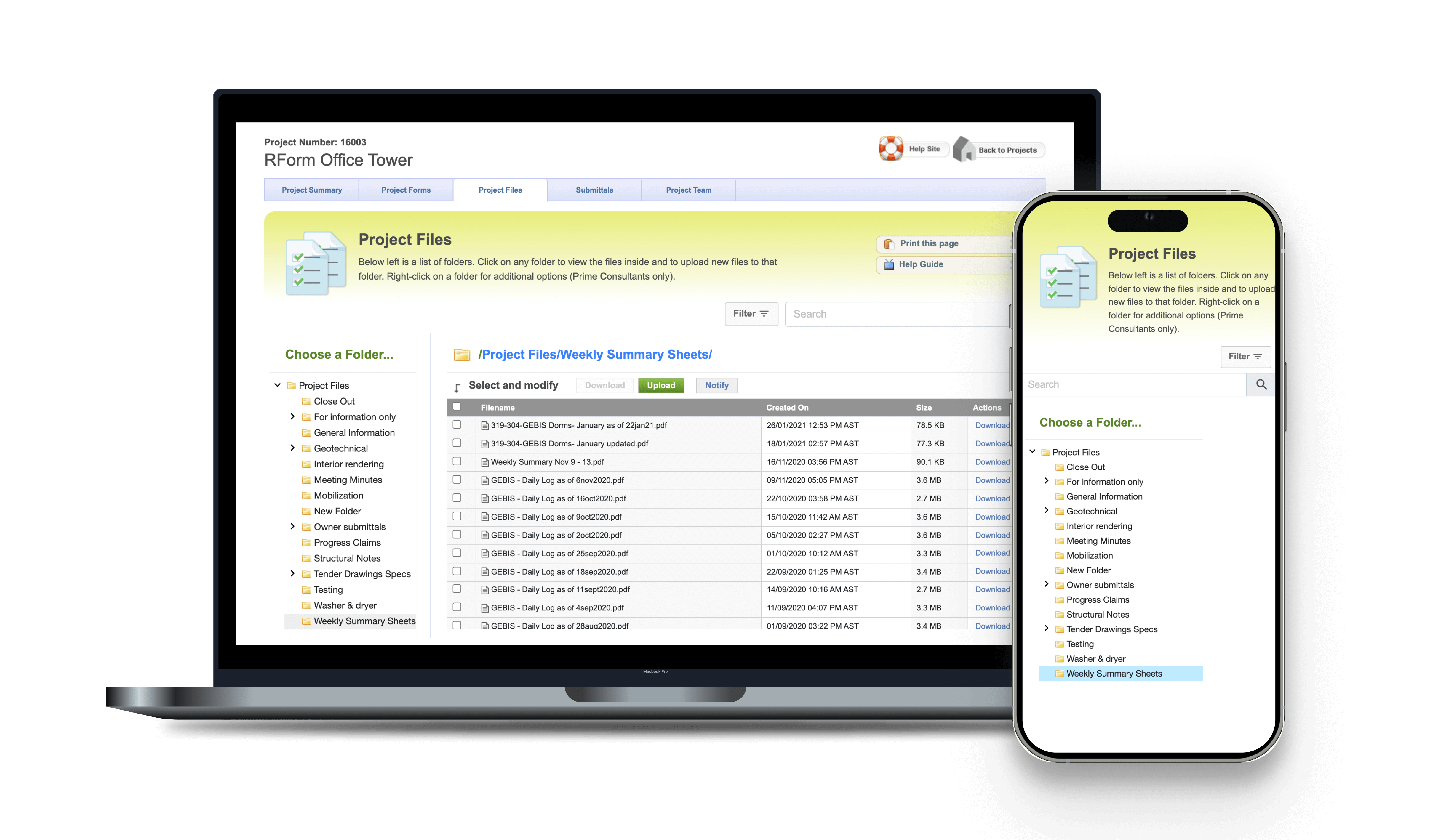 Elevate your construction contract administration with RForm's powerful software! Our platform streamlines workflow with essential tools for organizing and managing project files and documents. With Project Files and Document Storage, securely store, organize, and oversee all project-related materials in one user-friendly platform. Boost efficiency and enhance productivity.
Unlock the potential of your construction contract administration with RForm's Project Files and Document Storage feature. Revolutionize your workflow and propel your project management to new heights. Explore the powerful features RForm offers on our website and take control of your projects today
Effortless Document Management
Easily access and keep track of all essential project documents in one secure location. Our platform ensures that all stakeholders have real-time access to the latest files, promoting transparency and accountability throughout your projects.
Say goodbye to endless email chains
Our platform ensures everyone has access to project files, boosting communication and collaboration. Ditch the email overload and keep all documents in one convenient location.
Take control of your documents today
Put an end to all your to file-finding hassles! RForm simplifies document storage, saving you valuable time and boosting productivity. No more juggling FTP sites, or separate Dropbox accounts.
Document Access Anytime, Anywhere
With RForm, your project files and documents are just a click away, securely stored in a user-friendly online platform. No matter where you are, your projects can run like clockwork 24/7. Discover the convenience of effortless access!
Customizable File Structure and Notification Emails with RForm's Project Files Feature.
We get it—every construction project and office setup is unique. That's why our Project Files feature is fully customizable to match your specific needs. Plus, stay in the loop with automatic notifications for new file uploads.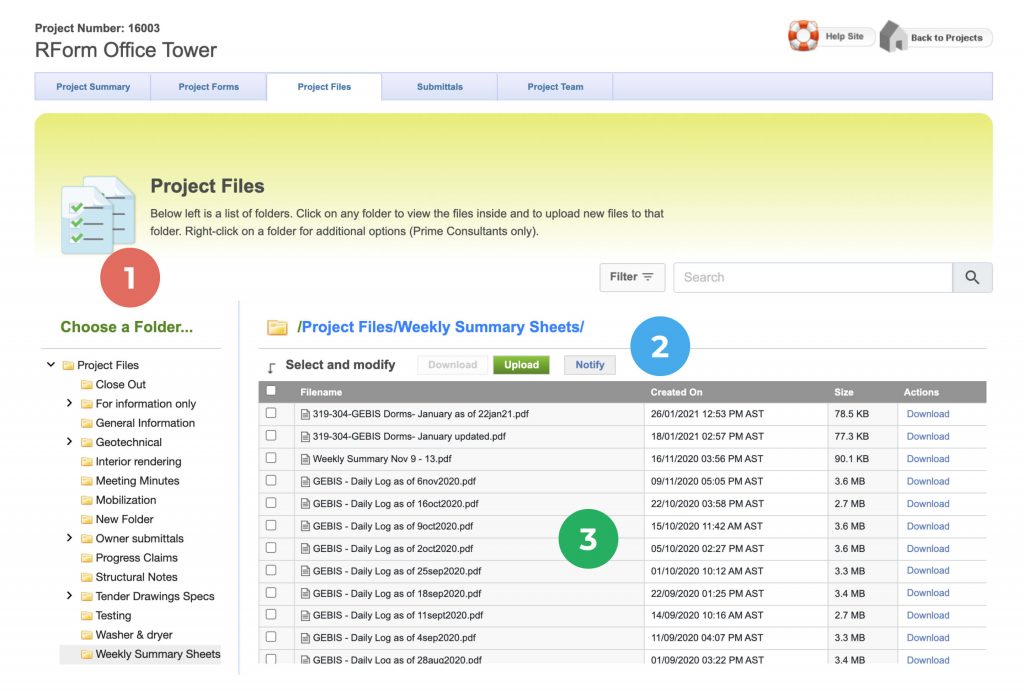 Bring a whole new level of efficiency and transparency to your contract admin!
The Transmittals make sharing information between project members easy. It keeps a clear record of all online messages without the attachments. This helps keep track of everything perfectly.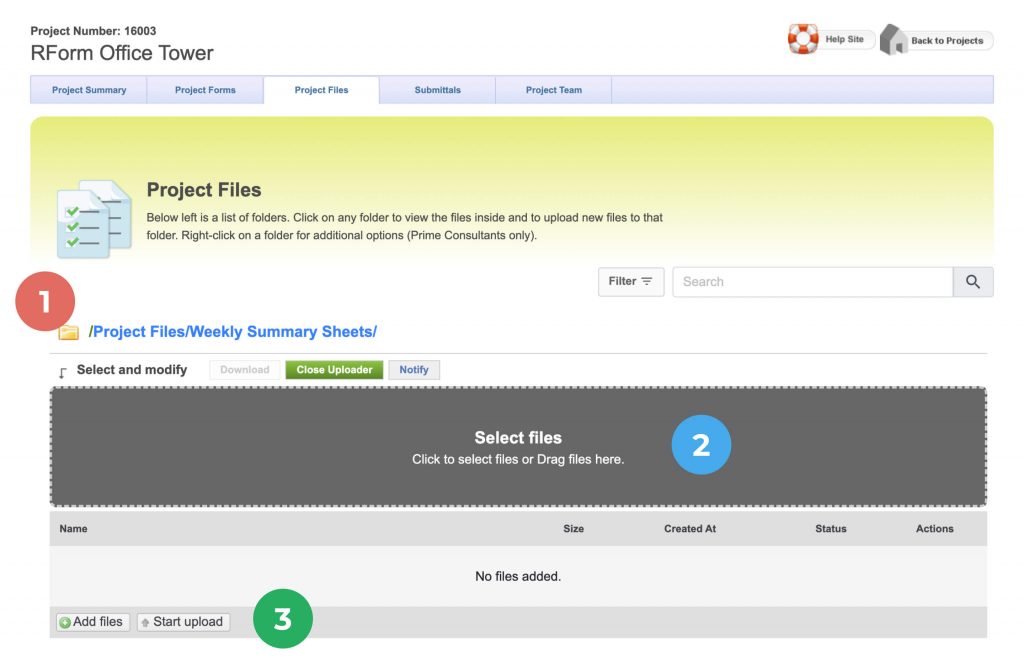 …we have reduced the time and person power spent on paperwork management and nearly eliminated the possibility of errors due to use of outdated or incorrect information.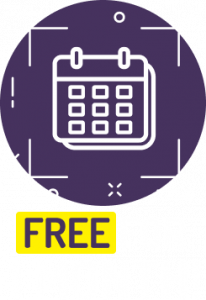 Simple pricing
Can't figure our the pricing of other Construction Contract Administration Software? RForm is priced per project with no limit on the number of project team members. Each project costs only $29.95 per month.

No limits on project size, number of project team members or data storage.